Design for hopeful futures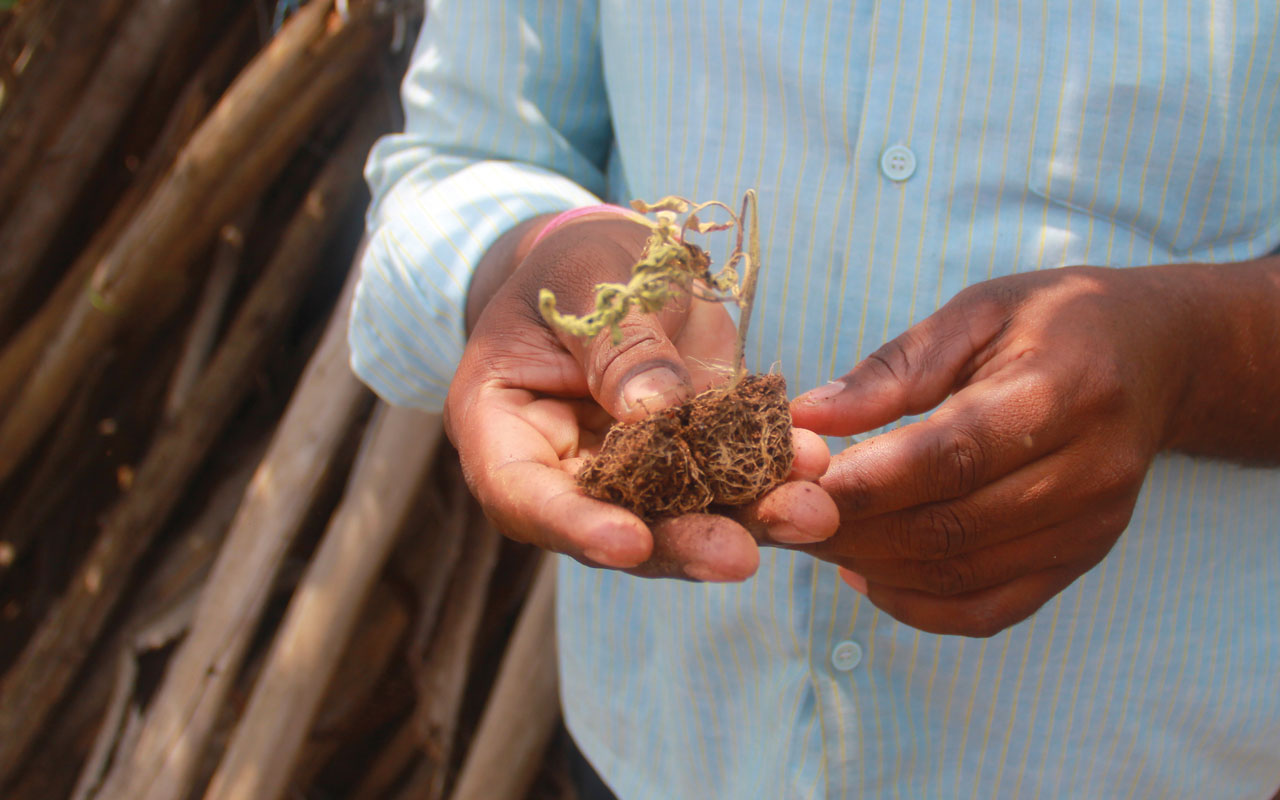 A farmer holding a sapling in Bhovipalya village outside Bangalore, Karnataka
O n 1 January 2016, the United Nations' 17 Sustainable Development Goals, or SDGs, officially came into force. Their aim is simple – to ensure that "no one will be left behind" and to "endeavour to reach the furthest behind first". Simple, as any Indian farmer will tell you, does not mean easy. The work detailed in this book was funded by the Global Challenges Research Fund (GCRF) and the Scottish Funding Council. GCRF is the UK's funding scheme aimed at applying cutting-edge research to the complex challenges facing all countries in responding to the SDGs. As researchers with a long history of exploring the opportunities and challenges posed by emerging digital technologies, we were struck by the discord between the aims of the SDGs and the ways in which major technology companies such as Google, Apple, Facebook and Amazon have developed business models that extract value from the billions of people that use them while directing economic rewards to a small elite. Ironically, these elite are the very people with the capacity to enable the kind of changes needed to address the SDGs.
Decentralising Digital, or DeDi, was our response to this discord: a two year long collaboration between the University of Dundee and the Indian design research agency, Quicksand, that explored the contours of a future in which digital technologies are inspired and informed by local contexts and considerations. These hopeful futures present a sharp contrast to the way most digital technologies are being imagined, designed and manufactured presently and raises questions about the purpose of innovation and the ways in which we measure and create value.
Today, in countries like India, technology is often imposed upon people whose needs were never actively considered by the designers of those technologies. This technological imposition, which the state machinery often touts as the panacea for every intractable social problem, is invariably accompanied by buzzwords such as 'transparency' and 'efficiency'. "If only agriculture in India could be made more transparent and efficient" goes the common refrain, not just among elected representatives but also among bureaucrats, technologists, retailers, suppliers, and others. In our research, working with small and marginal farmers, we found these claims of increased transparency and efficiency to be tenuous at best; more importantly, our efforts showed us that these technologies are often disconnected from the realities and aspirations of the people forced to adopt them. A small scale organic farmer can make little sense of the excel sheets and forms that need to be filled on her behalf to keep track of her farm's 'inputs and outputs'. Similarly, an indigenous coffee grower is unlikely to understand Blockchain technologies being explored to ensure the 'authenticity' of his produce. In such situations, enforcing the adoption of technologies among people – who have little to no understanding of their workings, purpose or efficacy and, who, more concerningly, have had no opportunity to engage in the planning, design, implementation and development of such technologies – simply creates a new class of marginalised people whose agency is severely curtailed.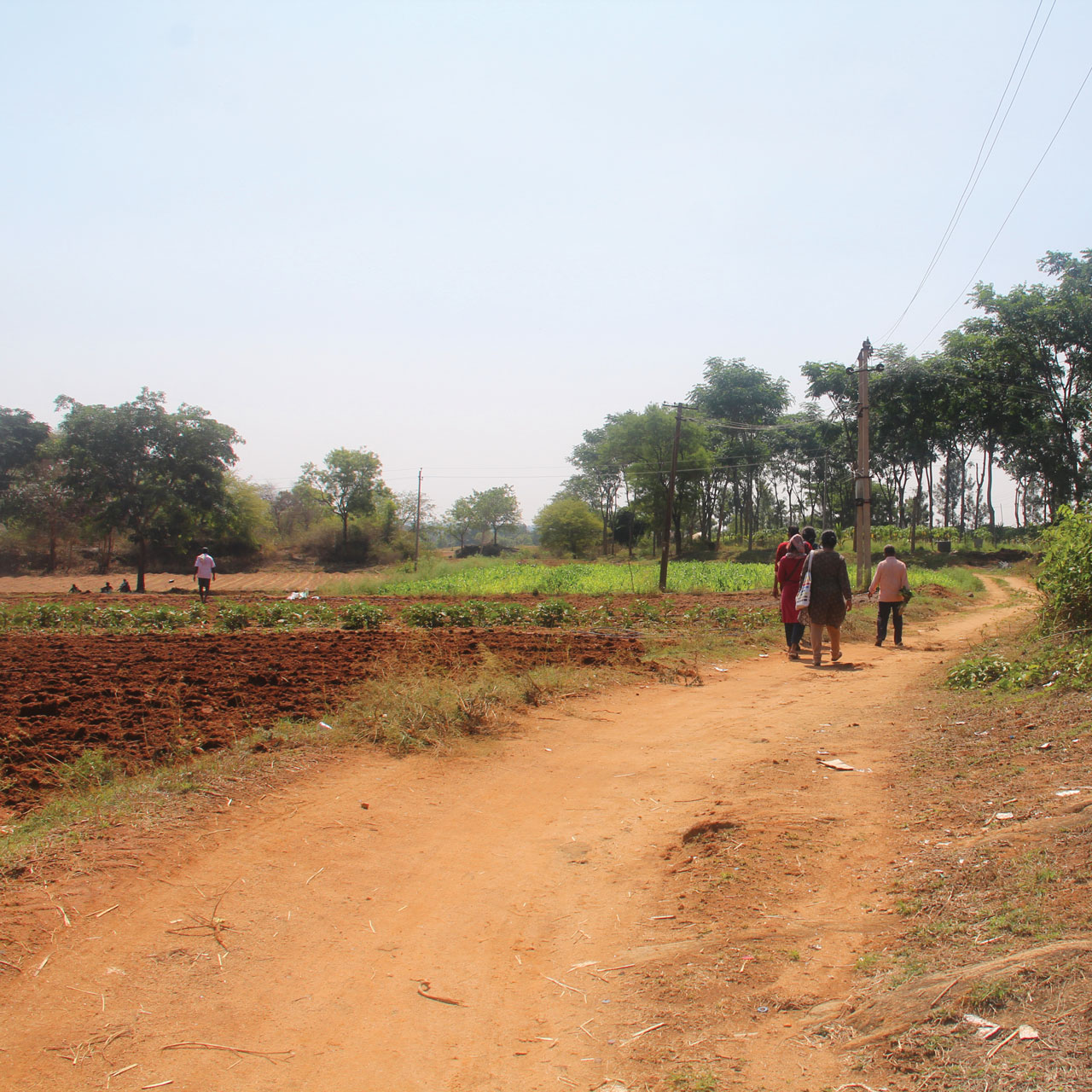 The research team in the field with farmers in Magadi, Karnataka
To be unfamiliar with technology can also often mean that one has no avenue to engage in modern creative processes. As most sectors, ranging from agriculture to conservation and from water management to education, adopt digital technologies, those unfamiliar with these technologies cannot participate in imagining a future for themselves or the sector. Not only are existing digital technologies not designed with them in mind, they are also permanently shut out of any design process that can contextualise these technologies with and for them. This means that in many cases individuals and communities that have a deep experience and connection with a practice cannot become a part of imagining its future. For example, in India many small-scale farmers with generations of practical knowledge around farming cannot (and will not) be consulted or included in co-creative processes that seek to address the multitude of challenges that Indian agriculture is facing today. Similarly, indigenous people who have coexisted with forests from the beginning and have unique, valuable perspectives on conservation are not allowed to participate in imagining conservation in the future. It is true that small scale farmers and indigenous people were rarely consulted even before the arrival of digital technology – but, rather alarmingly, digital technologies as they are today and as they might be in the future (if the current trajectory is not changed), preclude the involvement of these people in imagining, creating and maintaining a more hopeful future for themselves. Unfamiliarity with these technologies can also allow for the extraction of valuable data from marginalised populations, (like small-scale farmers or indigenous people) with impunity and with no compensation to its providers. For example, as precision agriculture is adopted more widely in the future, one of its promises is to accumulate data from farmlands across the world, thereby improving its ability to predict and guide. Unfortunately, a future where the data of small-scale farming communities is ruthlessly appropriated by multinational corporations is not hard to imagine in India.
Our effort was to engage a small selection of such small-scale communities through some key partners in rural South India. We interacted with a number of farming communities and some Soliga members to engage them in a creative process – that of re-imagining digital technologies not as something imposed on them but as an open-ended platform to build tools and systems that align with their vision for a hopeful future. This was a challenging exercise, not least because it meant breaking down the complex structures of modern technology into its components in order to better explain it to those unfamiliar with it. The members of the community were invited to put together these pieces in ways that were intuitive and meaningful.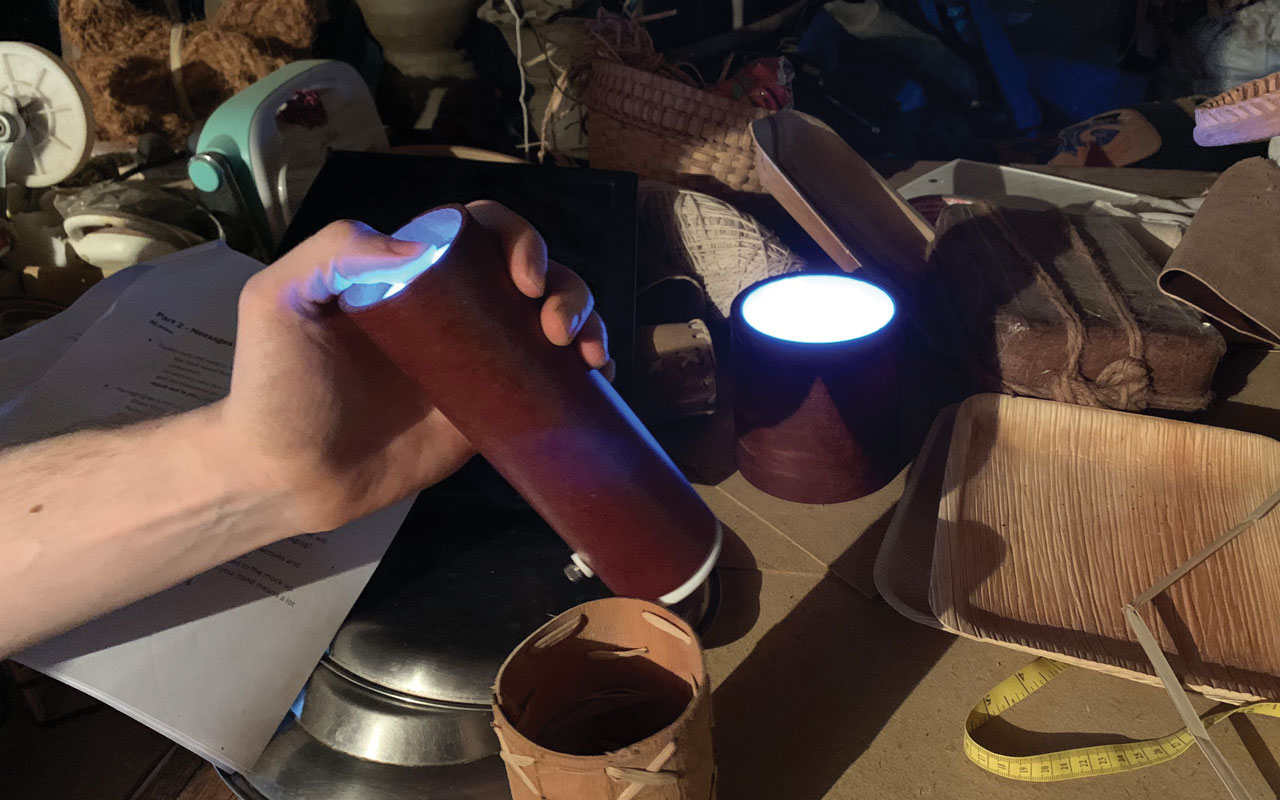 Sensing workshop with the community in IruWay farm in Tumkur, Karnataka
For example, instead of engaging with a soil sensor, we chose to engage with the idea of sensing itself; and nudged our participants to think of what could be sensed, what should be sensed, and how technological systems and protocols could be imagined around their vision of a digital future. This book illustrates a number of concepts, ideas and design briefs that we evolved with our partners and the communities we worked with.
The project ran for two years and followed a set of participatory research methods (including design research, interviews and workshops) and a research-through-design approach that used design artefacts and products to conduct research. The results show up in various ways all through this book. Reflections from our partners offer rich insights into peoples' lives, livelihoods, environments as well as the project approach. Illustrated comics depict hopeful decentralised digital futures; they are supplemented by speculative artefacts that provide more details about these futures. Together, they demonstrate an increased respect for and a recognition of the value of biodiversity, indigenous knowledge, and local ways of making. A range of different responses from Indian artists, crafts people, designers and writers present an expansion of these hopeful future stories. We hope that this book brings to life our research with our community partners. This includes our learnings about ecological and nutritional approaches to farming, indigenous ways of sustainable living with the forests, and our understanding of how rural and decentralised technology practices that engage thoughtfully and respectfully with marginalised communities can enable them to articulate their own stories. These point us towards a future that already exists, in distributed and localised forms of development, with extraordinarily resilient ecosystems that are safe, efficient and powerful. All told, these provide a sustainable blueprint for how we might engage differently with technology and artificial intelligence. And invariably this would be anchored in decentralised design and manufacturing. For us, these are pathways to a future that is more hopeful, sustainable, ethical and inclusive.
The agricultural sector in India is in deep trouble. The backbone of this sector, the small-scale, independent Indian farmer, is finding it increasingly unviable to remain in agriculture. Decades of focus on increasing productivity – which has only accelerated in recent years – has left large parts of India barren: hardly anything of value can be extracted from the soil anymore. Organic farmers, who are leading sustainable farming movements across the country, rarely get the value they should from markets as middle men continue to proliferate. The conservation of forests and forest-based sustainable commerce are both under threat. Conservation policy in India today involves the voluntary and involuntary eviction of indigenous people from the forest, while large swathes of India's forests are increasingly absorbed by the agricultural, mining, and tourism industries among others. Sustainable agriculture and foraging are promoted in many areas, but with insufficient consideration to local biodiversity. In any case, these activities rarely provide a way out of abject poverty for the many indigenous peoples of India.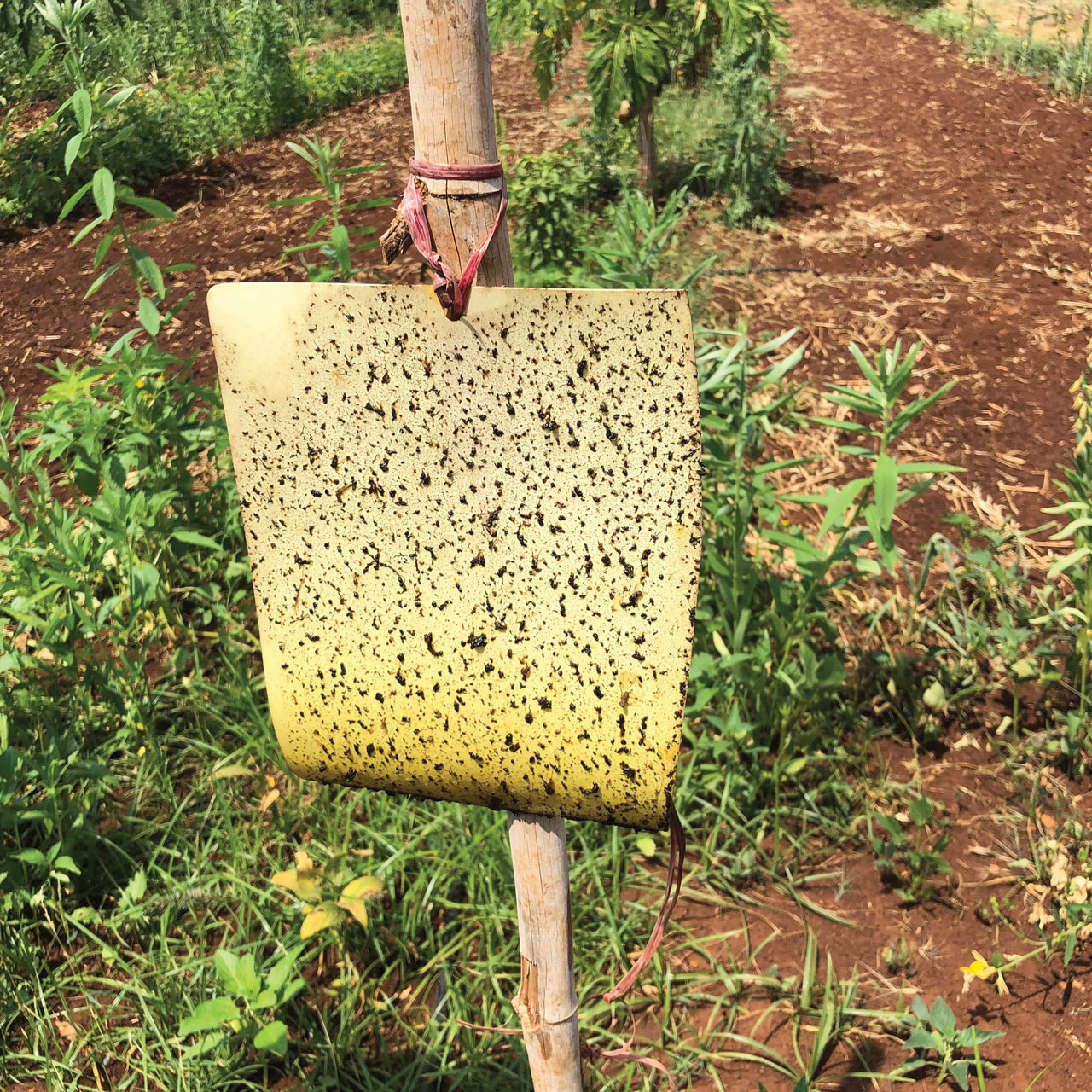 A flycatcher in a farm in Belgaum, Karnataka
For many farming communities, organic or natural farming is a way out of the crises facing Indian agriculture. Natural farming in India has deep roots and farmers don't see the switch from chemical farming to natural farming as a big transformation. For them, it is a return to more traditional farming; which, unlike in much of the developed world, is not a lost memory but a practice that has fallen into disuse. We learned that many farmers and farming communities are acutely aware of the changing climate, the degradation of their soil and the loss in biodiversity that has accompanied modern farming.
Farming collectives, often led by proto-democratic governance bodies are crucial entities that allow farmers to collectivise and address their environmental, financial and legal concerns in more focussed ways. Organic farming collectives, like the ones we interacted with through the course of our research in South India, are at the forefront of agro-ecological approaches to farming. They are concerned with the equity, dignity, and financial sustainability of farmers. They are also concerned with preserving biodiversity and soil health in the face of climate change. In our interactions with these organisations, what was striking was their holistic approach to tackling the plethora of crises facing Indian farming in particular and rural society in general. These collectives can be, and in many situations already are, powerful platforms towards the proliferation of sustainable agriculture in India. Given the rapid growth of industrialised farming, such collectives may quickly become one of the few viable pathways towards adapting to climate change and ensuring the survival of small-scale Indian farmers.
While many farmers and farming collectives have bet on natural farming, the state is betting very heavily on technology. For the central government as well as many state governments, ubiquitous digitisation has become the panacea for India's agricultural woes. This digitisation is happening via highly centralised technologies that do not collaborate with the farmers at all. Increasingly, technological systems are being imposed on farmers; who have no choice but to work within them as the consequences of opting out are usually severe. One organic collective that we visited had to maintain tedious digital records to receive an 'organic certification' from the government. For the farmers themselves, who don't understand this kind of record-keeping, there is no way of meaningfully engaging with this technology. The collectives buffer the farmer by maintaining data-entry staff whose sole job is to input the farmers' assessment of their activities (which is usually roughly recorded data) into a centralised system. A visit to these collectives quickly convinces one of the futility of this exercise, which is completely incomprehensible to those people (the farmers) to whom it matters most. On the other hand, the deep experience of the farmers, their ability to understand the health of their soil, and their care and consideration for the preservation of biodiversity is largely ignored by the state – which remains stubbornly convinced that the answer to everything lies in 'development' through technology. We also spoke to several people belonging to the Soliga tribe in Karnataka, who nurture a deep connection with the forest. As small-scale coffee growers living on the edge of the forest, they are in the crosshairs when it comes to the imposition of technology. For example, Blockchain technology is being seen as a silver bullet to establish the authenticity of their produce. These technologies make little sense to the Soliga farmers – not simply because they are not trained to understand it but also as a conceptual idea in itself. In other words, neither the operations nor the objectives of a Blockchain resonate with the Soliga farmers. And yet, it is not an exaggeration to say that in a few years, their livelihoods may depend on adopting technologies such as Blockchain.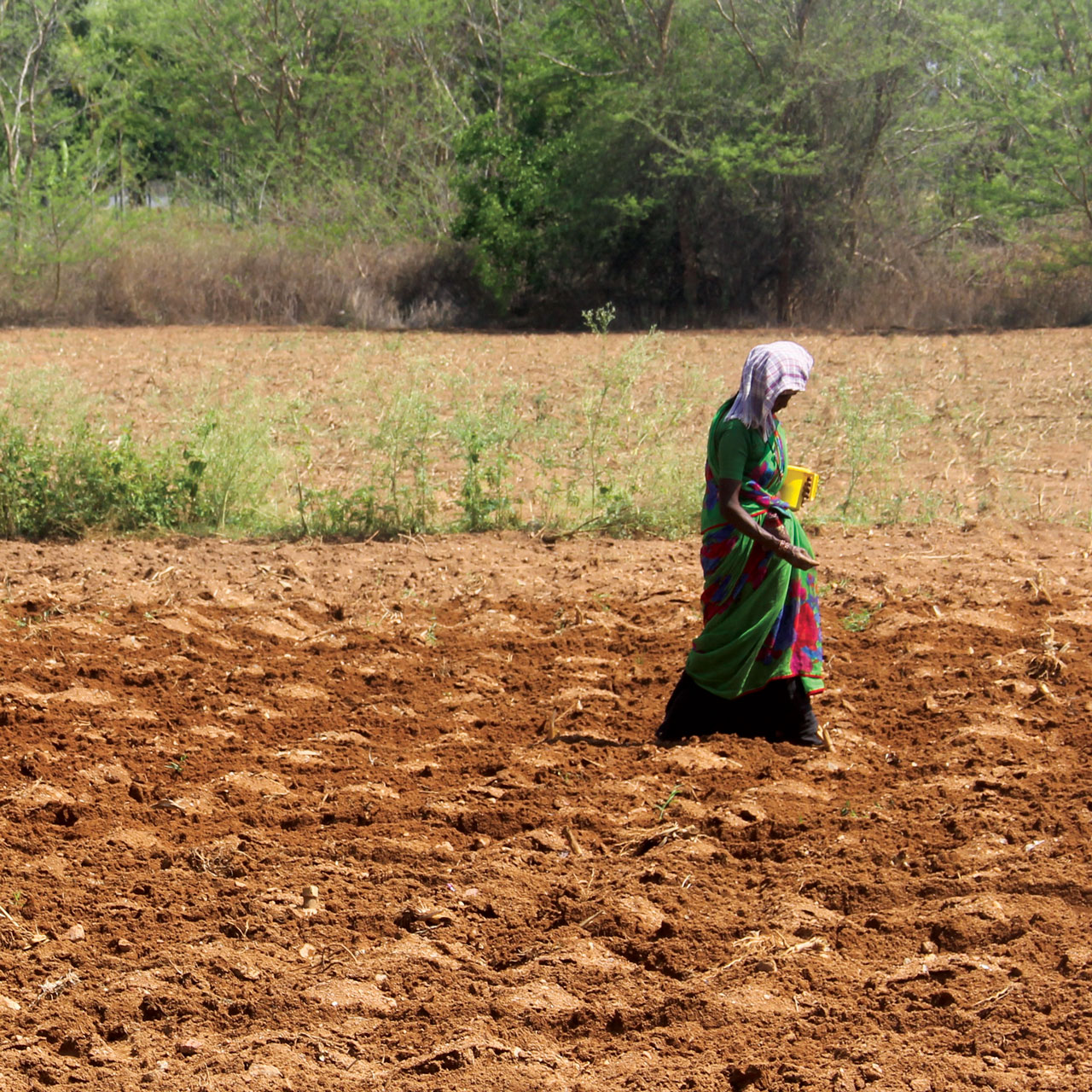 Lentil seeds being sown after the rains in a natural farming process in Magadi, Karnataka
A crucial challenge with these technologies is that they have not been designed with the Indian farmer or the Indian farming context in mind. These include both manual record keeping, data collection and entry (for example, a daily record of what the farmer put in his/her soil) to more modern technologies – moisture sensors, automated irrigation and big data analysis. They have not been imagined in collaboration with the farmers, who are the experts in the field, and are largely disconnected from their hopes and aspirations.
Another challenge with these technologies is their centralising tendencies. Valuable farming data that should, by all accounts belong to the farmer, is fed into government or privately owned databases for essentially no cost. Once the farmers opt into this regime, (and they often have little choice), they lose all control over their data. This is even more true for sensor-based regimes, which automate collection and storage. It would seem that no other ownership model has even been explored. This again points to a design and development process that totally excludes farmers and, in turn, restricts progress towards the goal of more sustainable farming.
The experience and values of Indian farmers, especially organic and natural farmers, can drive innovations towards sustainable agriculture. Their perspective, instead of being ignored, should be actively sought within any kind of design process that informs future technologies. We learnt that Indian farmers are, unsurprisingly, experimental and innovative besides being huge storehouses of experiential knowledge. Women farmers have long been experts at preserving heirloom seeds that have adapted to local conditions and are resistant to drought and pests. Like scientists, these women are also incredibly patient. Indian farmers are also surrounded by a vibrant community who have traditionally played their part in the agriculture ecosystem – from the local blacksmiths to the water stewards and nomadic cattle rearers.
Given all this, it is not difficult to see that a desirable future is one where farmers are part of the design process, where they engage with technology and mould it to meet their needs and visions, and where the larger community of the village too plays a role in the design, manufacture, and maintenance of the technology. Once these technology systems reflect the values and experiences of the Indian farmers, our bet is that they will be by nature more sustainable and inclusive. This might appear out of reach today, but small steps being taken across the world and in India are moving the conversation in the right direction.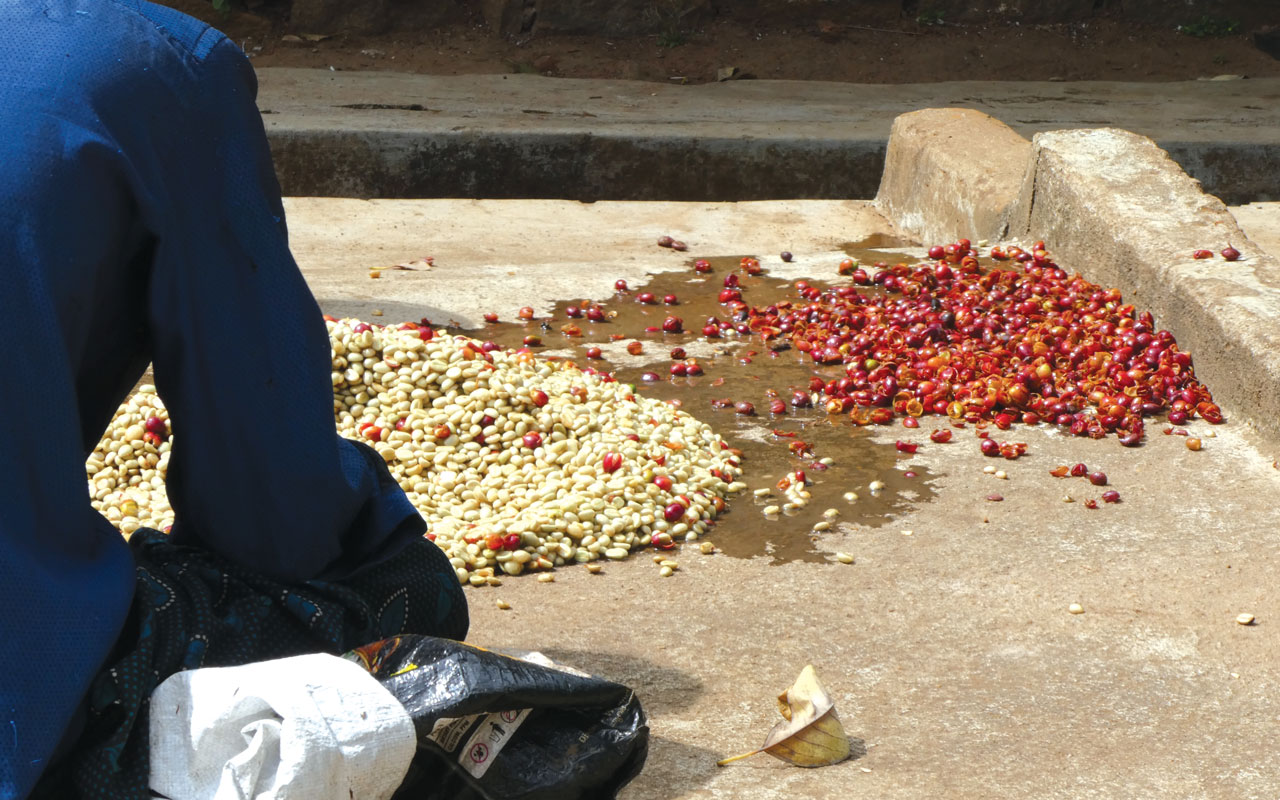 Pulping to remove the skin from harvested coffee beans in BR Hills
Our aim was to enable and support marginalised communities like small-scale farmers and Soliga coffee-growers to express their own vision regarding more inclusive technology-based futures. Through the course of this engagement, we met a number of individuals who are at the heart of these efforts and our work has been both inspired by and is a testament to their stories and practices.
As we have highlighted, the exclusion of such communities from meaningful discourse around design and technology leaves them struggling to work with modern technology. Including them in the discourse was, for us, the central challenge of the project.
To address some of these challenges, we partnered with organisations that have worked with these marginalised communities for decades, helping them empower and represent themselves. Our work with these partners was critical to the project. The organisations we worked with include Buffalo Back Collective, Black Baza Coffee and Janastu, all of whom have established strong links with rural communities, especially those in Karnataka. The work of these organisations is embedded in these communities and their work with them tackles complex issues like sustainable small-scale farming, issues of certification and peer support, livelihoods, access to markets, biodiversity, and inclusive technology tools. Through all this, an emphasis is placed on the values of justice, respect, and co-creation. Our relationship with our partners ensured that we were situating our work in appropriate and respectful ways; ways that allowed us to ask the right questions while engaging these communities equitably. Their guidance through the course of our project was vital and helped us work with communities to build relevant and meaningful future narratives.
At the heart of our engagement was the idea that design could be used as a tool to enable people to imagine and articulate their hopes for the future. Formally articulated or not, the future is, and has always been, a core strand in the DNA of design. It wraps around the processes and outcomes of design, a philosophy that could perhaps best be summarised as the belief that a better lived experience is achievable.
Yet we know that, for the most part, this aspect of design is an illusion. Since the Industrial Revolution, critics have highlighted design's complicity in unbridled economic growth and the concomitant destruction of the natural world, but their critiques also contained a proposal: that if design was the cause of the problem then design could (and should) also be a solution to the problem. This warning bell from the past has never rung so loud as it is ringing right now and it behooves us to pay heed, especially in light of the colossal growth of technology industries and their complicity in putting the gains of the few over the good of the many.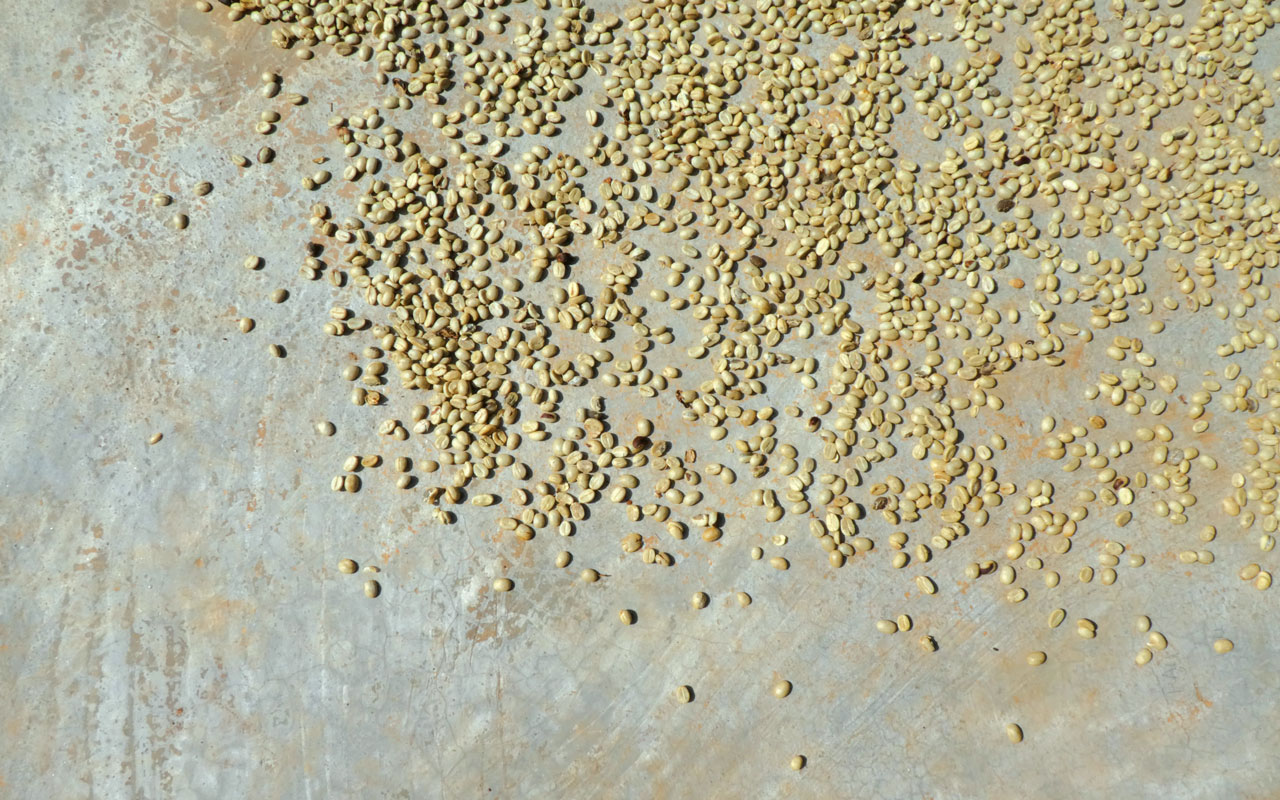 Soliga producers drying coffee in BR Hills
Under the auspices of innovation and usability, big tech has employed 'user-centred' design with incredible precision to remove the user from an understanding of the inner workings of the machine. The contrast between the ease of setting up a new phone and the complexity of understanding its terms and conditions reveals where and why such design is employed and in whose interests these decisions serve. This is as true at a product level as it is at a global level. 'Designed in California, Made in China' is an unambiguous presentation of today's truth. Futures designed in California and made in China.
The unprecedented dominance of big tech has created new narratives around scale, reach, and security that reinforce the status quo and smother disruptive and equitable innovation. These narratives suggest they are too big to fail, too established to replace, too data-rich to be challenged, and that we need to trust them to continue the job they have started. However, the ongoing success of this narrative will result in the colonisation of everyone's digital futures.
Digital colonialism is not just an established narrative, it is a lived experience across the world. We need to challenge this by providing new narratives that are based on the behaviours, lifestyles, needs and hopes of the multitude of people; and not just the desires and greed of a few. In doing so, we can begin to imagine better alternatives. The future is not a destination on a predetermined line (drawn between now and then), but instead a canvas for the creation of myriad possibilities that start from the present and ripple out in a hundred directions. There are many futures. It is within this richness that we must tell our own stories and forge new paths towards futures we envision for ourselves.
When unshackled from the pursuit of economic growth, the tools of design – built on the promise of providing better lived experiences – can be used to articulate these 'alternate' futures and enable their creation by connecting the 'dreamer' with the 'enabler'. Design's role will then become as much about working with people to tell their own stories as it will be about enabling those with power to hear, understand and ultimately bring these stories to life .
This approach is different from the typical and traditional mode of design as an activity that identifies problems and provides solutions. But the future is not a problem waiting to be fixed; we need to think beyond problematising and solutionism. Designers need to rethink their relationship with those they design with and for, as there is a tendency in this problem-solving space to see people in an overly scientific way where humans are subjects and the future is an object; the two meet and things are solved. And design itself needs to be reframed as a partnership where people's participation (as equals and not subjects) is both solicited and welcomed.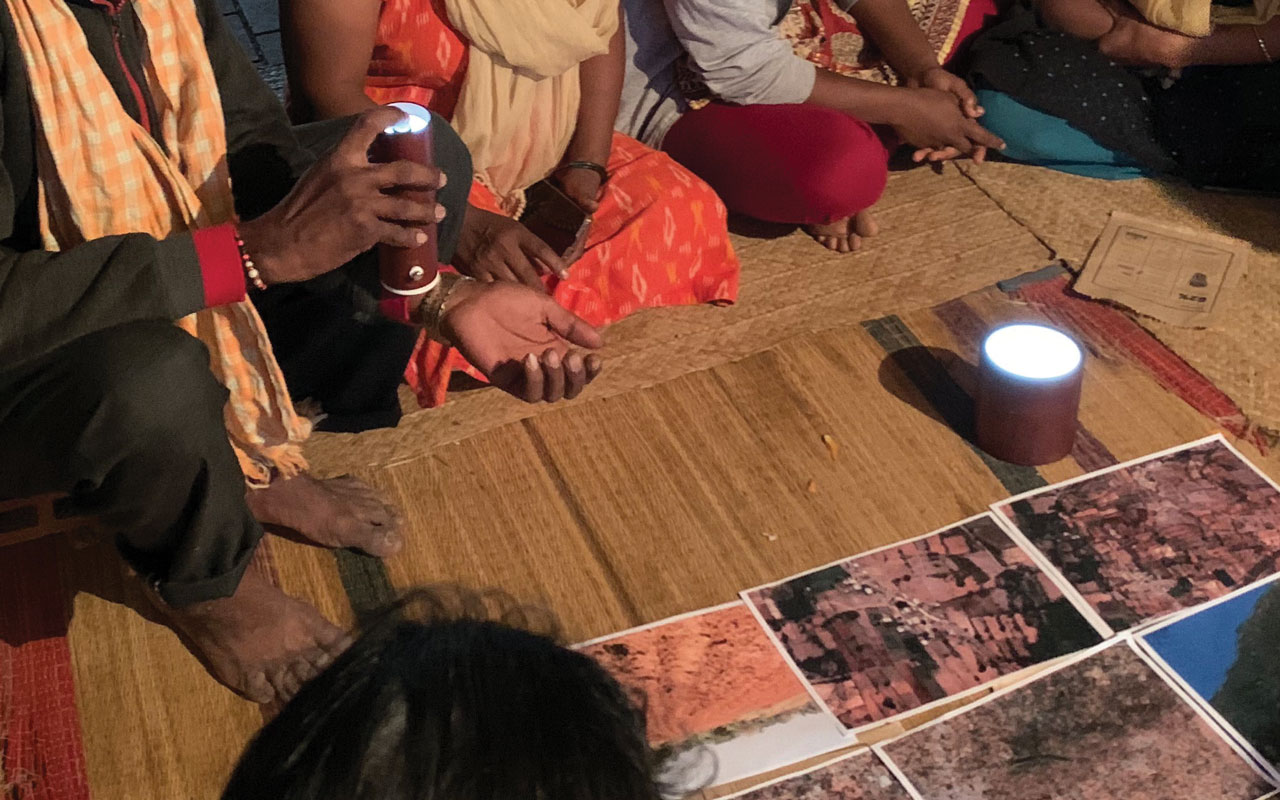 Crafters at IruWay Farm experimenting with ColourWell, a prototype to prompt discussion about how biodiversity data could be measured at a local level.
Throughout this project, our approach was conversational and open-ended, concluding in a series of connected ideas, or building blocks, that form an evolving narrative. It was important to us that each of these blocks resonated with the people whose lives the stories were centred on. To do this required us to be more empathetic and work collaboratively and in partnership with the people of the community. It was a learning journey for everyone involved. There was no real right or wrong in this process, only a sense of resonance between people, their lives, and a sense of what their future(s) might hold. It was here that we needed to recognise and challenge the traditional asymmetrical power relationship between 'designer' and 'user'. Rather than being detached observers or commentators on peoples' futures – or worse, sole determiners of others' futures – we sought a more equitable relationship in which we acted as partners, advocates and allies to the communities we worked with. This gave agency to the people of the community and helped them become the 'designers' of their own futures.
Design can help people imagine new building blocks that act as the foundations for stories that give people the chance to consider and evaluate alternative futures to allow them to determine what feels right. Once a pathway to a new reality is created and tested, what remains is 'working backwards' from this future to establish and enable the things needed to make these futures a reality. Looked at this way, design has the power to put the future into the hands of anyone with a story to tell.
Speculative design offers a framework for telling these stories. It has become common to contextualise speculative design by referring to a 'Futures Cone', wherein futures are categorised as: possible, plausible, probable, and preferable. Much speculative design exists in the realm of the 'preferable'. Whilst this terminology works at a practitioner-level and provides a useful framework to position pieces of speculative design, when we started to think about how we would explain the idea to people who hadn't been exposed to it previously, such as our partners and communities, we realised it could be problematic. The idea of a 'preferable' future suddenly seemed both removed from a community's lived experience(s) and not ambitious enough in its scope. When we reflected on our conversations with farmers and indigenous people, we realised that whilst they often reflected hardship, they also reflected hope; most typically, hope for future generations, for their children and their grandchildren. This hope became an anchor for the project, a way to create a mutual understanding of what we hoped to achieve and why. We recognised that we were co-designing for hopeful futures.
To hope is to be human. But the power to realise hope is not evenly distributed. Design can and should be deployed to redress this imbalance. Of course, there are many tensions in framing design in this way. Tensions that exist because of the uneven distribution of power in partnerships involving designers, community organisations, and the people they are working with. Which is why it is important to recognise that there is no right answer here. The right approach would be to acknowledge these differences and attempt to find bespoke approaches best suited to the people and their context. In this project, we found that making abstract objects and interactions that suggested pathways towards hopeful futures (without explicitly providing solutions) was a powerful way to initiate conversations. The use of local materials and customs served to ground these technological suggestions in familiar territory.
Hope is grounded in reality; it recognises that things are not and may never be perfect, but that they could be better. Hope is the ground on which the building blocks of the future must be placed. Hope that is culturally specific, rooted in personal lived experiences and real lives. Hope that is actionable and realisable. Perhaps we have fallen into the trap of trying to fix problems. Speculative Design has successfully and thankfully moved design beyond 'solutionism' and into the realm of provocation, discussion and debate, but what is hope without a belief that it might be achieved? When people's lives and livelihoods are at stake, design has to aspire for something better. Just as planting seeds is an act of hope, the design approach of this project seeks to kickstart a journey towards hopeful futures for ourselves, our partners, and the communities we worked with. It is only a beginning.