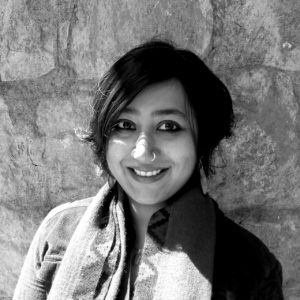 Partner Reflections
Black Baza Coffee
These days more than ever before, we have been trying to imagine the future. Imagining the future is challenging, tricky at best to wonder what the forest would look like fifty years from now. Would invasive species like lantana sweep over the forest floor? Would the summer extend into the monsoon and as a result would the dry deciduous forest replace the wet evergreen? Would coffee only grow in the higher elevations? Would there be a shift back to shifting cultivation or would there be no cultivation? While places like BR Hills have been shielded from being pulled along into dominant narratives of development, we wonder how we might continue to sustain this autonomy into the future.
A hopeful future therefore is one wherein indigenous community like the Soliga in BR Hills have the freedom to self-govern and make independent and autonomous decisions about their community, livelihoods and surrounding ecosystem.
This might mean a more collective approach to leadership and decision making about the big and small things – like where to build a concrete road or construct a health care centre or how to design school curriculums. Fundamental to the current landscape in BR Hills is its legal status as a Protected Area, which provides the state with the management rights to the region. While communities can be involved in decision making about the wildlife sanctuary, the decision to, or not to, involve them ultimately rests with the state. A hopeful future for the forest is one wherein traditional indigenous knowledge and conservation practices like lighting litter fires to control larger forest fires or to control invasive species, can be at the centre of conservation plans for the region. This might mean that decisions about how best to conserve forests and biodiversity, including the tiger can be taken by community members instead of state agencies.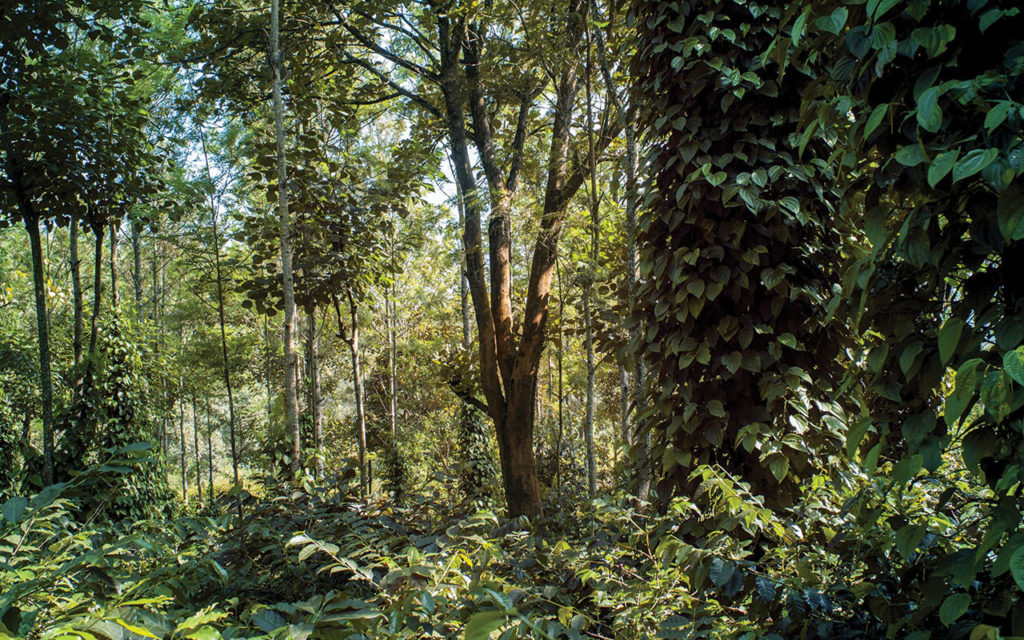 Soliga coffee farm with diverse native trees species
Of course, coffee is only incidental to this hopeful future! Coffee is important so as long as it is a means to improved livelihoods, exposure to fair market partners and also a means to build capabilities to self-govern. If coffee persists, then a hopeful scenario is one wherein the marketplace is not just a marketplace and consumers are not just consumers. And coffee is not just coffee! Rather it is one by-product of a process of living mindfully in an ecosystem and sharing the space with other living beings. A consumer therefore is a co-partner in this journey, someone who understands a little bit more about the intricacies of sharing space with nature and is willing to see 'imperfections' in the process and coffee beans as indicators of a thriving, diverse ecosystem. Maybe this year the monsoons have been heavier, the forest floor is wetter and therefore the coffee beans have held more moisture and have a different flavour as a result. Essentially if a hopeful future is one wherein there is an inherent acknowledgment of variability and non-linearity, then questions of how to build trust become even more relevant. A seal of trust is unlikely to do the job. Maybe we need complex, long-winded stories that draw producers, consumers and the uncontrollable ecosystem together into a system. Could these stories be imagined like nothing we've imagined before? Could these stories be sounds, smells and tastes instead of seals and certification labels?
Historically, forest-dwelling communities have not enjoyed a seat at the decision-making table. Whether large scale policies concerning land tenure or more everyday ones, like collection and sale of forest products, decisions have been taken in their absentia. Decisions are taken by those in power and then rolled out in the landscape. The standing joke amidst community members is that they learned of India's Independence six months after it had happened! In our work and indeed for most practitioners who believe strongly in co-designing and co-creating processes, community-led decision-making is a first and foremost prerequisite. This is especially true when imagining futures. However, our experience shows that there are inherent tensions in this idea of agency and self-deciding about the future. Many of the community members we work with are ambivalent about holding formal power and there is little collective memory of what holding power in contemporary India means. Few community members have held leadership positions in local, state or central governments. There is a dual relationship with the state, often contested especially on issues of recognising individual or collective rights to land. However, the idea that the state can protect community members, can enable development and distribution of public goods and services is also strongly present in the dialogue about the future. It would be valuable to enable community members from BR Hills to visit and engage in depth with communities elsewhere in the Indian subcontinent who have a longer history of self-governance. It would create practical reference points with a roadmap for what this journey would look like. We might also facilitate a more structured, focussed dialogue on the future – who are the actors, who holds power, formal and informal authority and how are decisions made?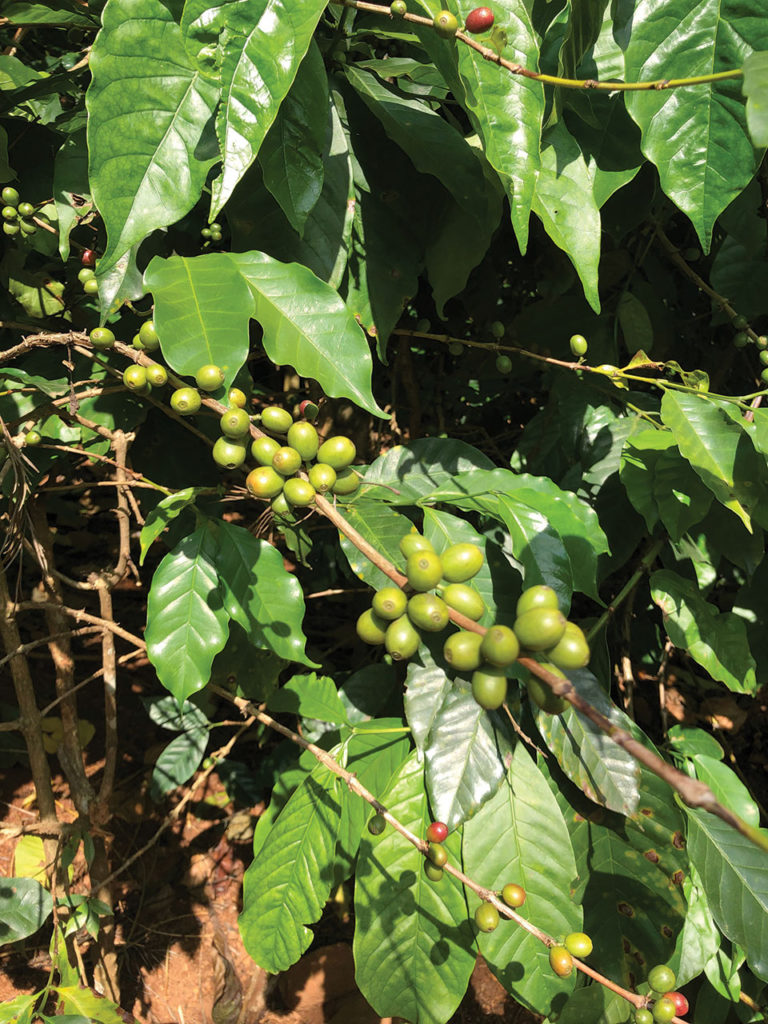 Coffee seeds in a small-holding Soliga farm
During the course of the past few months, it has been equally important to create prototypes that respond to conversations with community members around self-governance. Some of these prototypes were shared at the UnBox festival and GCRF symposium at the University of Dundee. These prototypes were not only an attempt at solutions but also starting points for discussions around what the core need is in the community. Many of the prototypes attempted to shift a set of feelings and therefore seemed powerful ways to engage and transform.
A producer as a superhero shifts the narrative that farmers hold less knowledge and fewer capabilities – a collective feeling held by many communities and also exploited by those with vested interests. A weighing scale that attempts to tell a story, mapping the journey taken by the coffee bean, slides into the consumers consciousness before they can quickly weigh, pay and get away. Similarly, a colour detection meter that can select ripe coffee fruit, empowers a smallholder coffee producer to fight the bias that small farmers cannot grow the best quality coffee. These prototypes, while they seem like technical fixes, do actually challenge the dominant narratives that seek to marginalise smallholder producers and indigenous communities.These prototypes can now be pushed on further.
One of the spaces for emergent technologies is in strengthening indigenous knowledge, whether traditional ecological knowledge, knowledge of the land and ecosystem, changing climate and traditional medicine – enabling communities to build self-reliance for the future.
From our work it seems that communities need support in documenting indigenous knowledge, protecting their knowledge systems while accessing and adapting knowledge for what is relevant in the current context. Building an evidence base of current land and resource practices would enable community members to contest the lack of recognition of rights, tenure insecurity and steps taken by the state to disempower community members. Could these technologies protect communities from eviction, displacement and disempowerment?
On a more personal note, as someone knee deep in the conservation and development space as a practitioner, the collaborative thinking allowed for directions in our work that we had not previously thought of. The idea of futures and hopeful futures are new ways of thinking for us. We are most often found fighting fires and addressing the most urgent or contingency livelihoods needs of community members. When we think about futures, we only gloss this over and move straight on to planning – planning projects, planning activities and outcomes. Imagining a hopeful future has allowed me as the founder of Black Baza Coffee to reflect on the values that feel most integral to our process. It has also enabled me to feel more agency and be a more empowered decision-maker myself.